At St Monica's, students think for themselves, accept challenges and, most importantly, value their achievements. We celebrate the gifts of every individual.

At St Monica's, every child, every day will be supported and challenged in a faith-filled, welcoming and inclusive environment, underpinned by best practice and high expectations.
We are a community of faith and hope with many gifts and talents. We promote justice for all, preserving the dignity of each individual – and we believe that those individuals can reach their full potential with a strong relationship between home and school.
All students need an engaging curriculum that provides them with a variety of learning experiences, which is what we are proud to deliver every day at St Monica's. We cater for all, and we celebrate the individual.
Our Graduate Outcomes
From Foundation to Grade Six, our students strive to: 
—   develop empathy, compassion and tolerance
—   be an independent and curious learner
—   have respect for themselves, their community and their environment
—   take risks and develop resilience
The right environment is critical to the development of a child.
At St Monica's we are fortunate to have inspiring grounds and classrooms.
Our learning spaces are purposefully designed to motivate learning at every opportunity. Most importantly, they are built for a community of learners, where students can share their academic journey in a focused and fun school day.
Beyond the classroom, our students enjoy lunchtimes around an oval, a full stadium, lots of play equipment, and a sensory garden which was designed by an occupational therapist.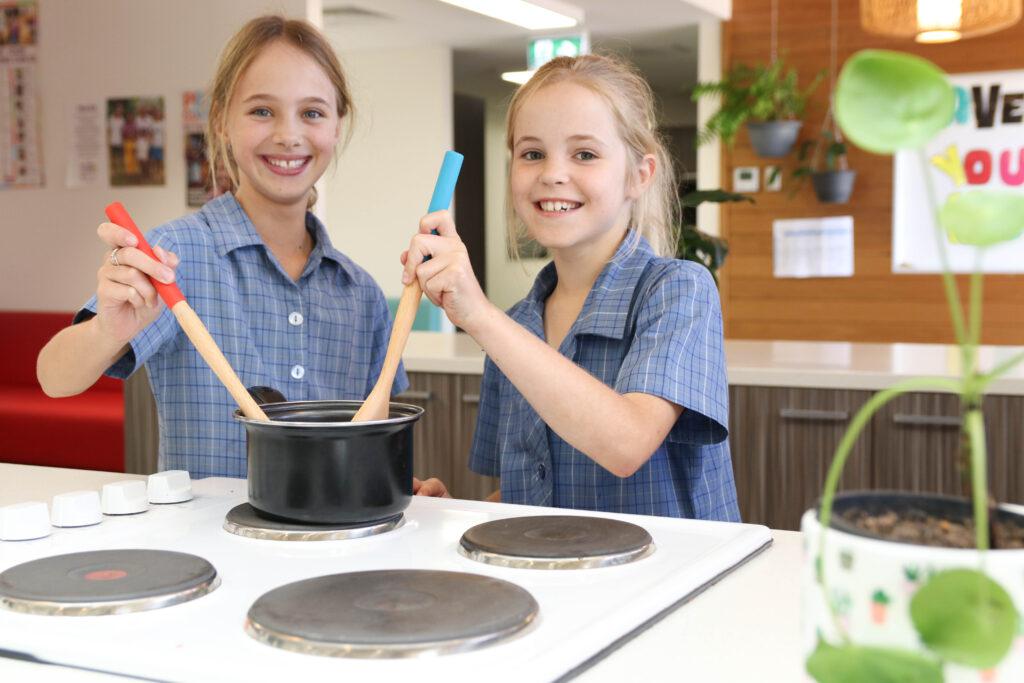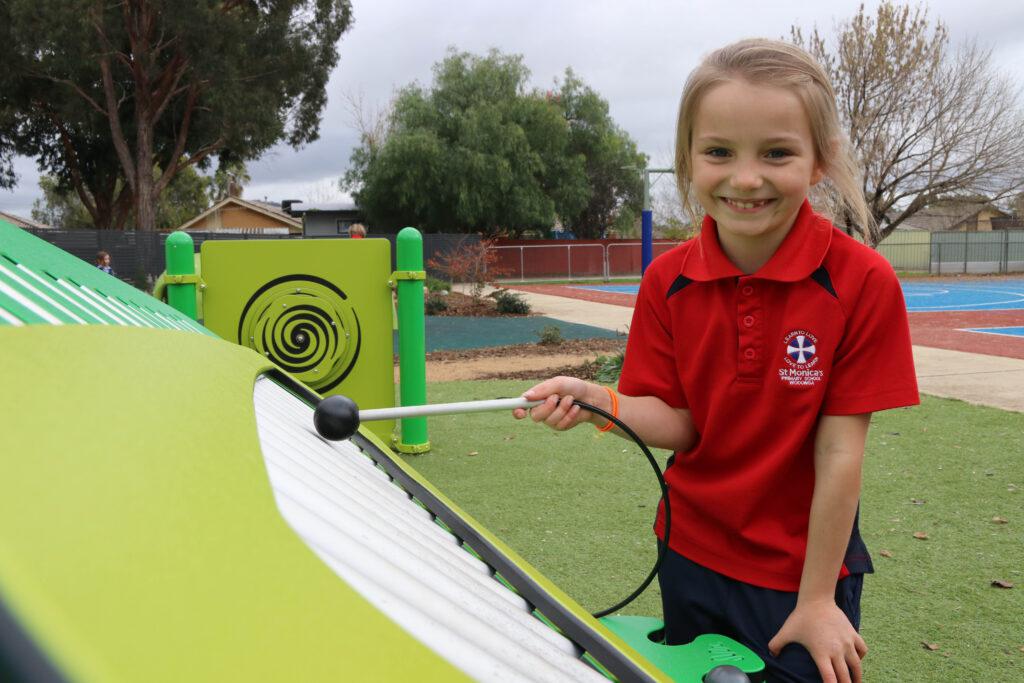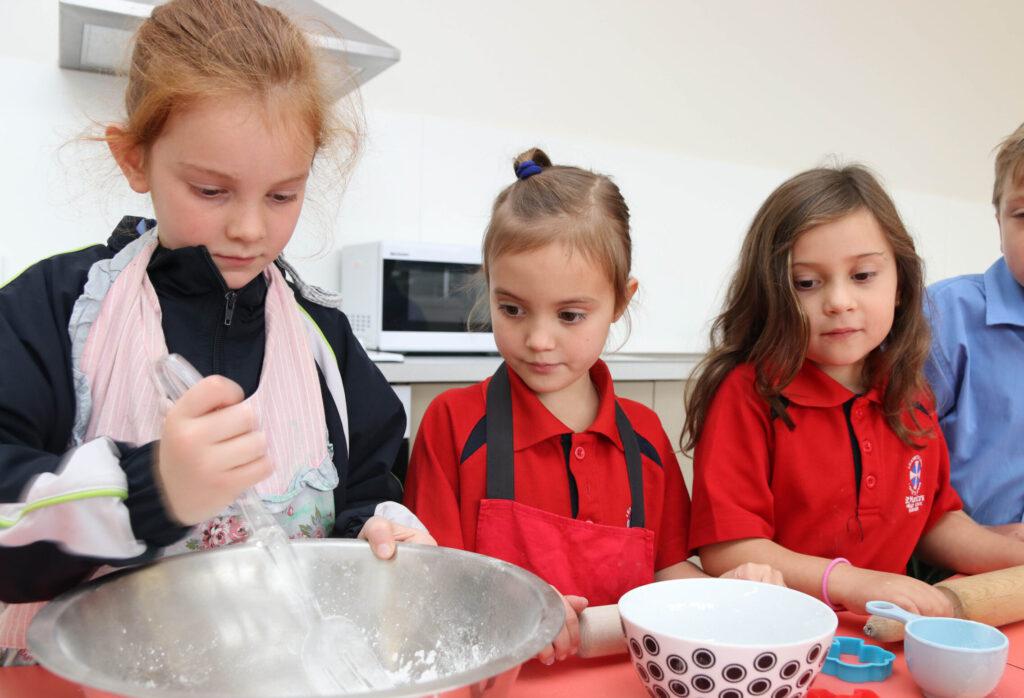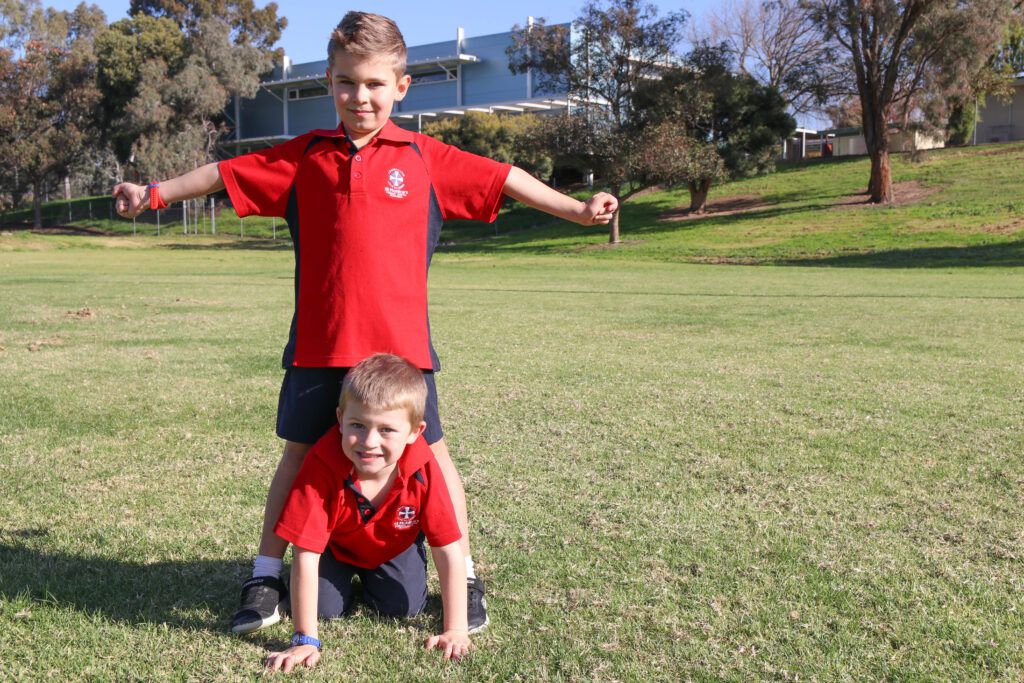 At St. Monica's, our school is open to all who seek a Catholic education.
We welcome families of all backgrounds. We share and celebrate the diversity of our community. All students participate in Religious Education and learn about the Catholic Story. This is a central part of school life, including our pastoral care and student engagement, communication and interaction.
Our Catholic identity informs and influences all learning in the school and is integrated throughout the curriculum. Sending a child to a Catholic school involves supporting this religious aspect of school life.
When choosing St Monica's Primary School you are choosing to immerse your child more deeply in the Christian story leading to a sense of belonging, involvement and cultural identity.
At St Monica's, the Gospel is central to our lives, and we regularly celebrate and demonstrate our faith. Working together with parents and our parish priests, we aim to give children a sound understanding of our Catholic doctrine, tradition and Gospel values. We also emphasise the importance of living out these values in our daily life.
St Monica's Identity Statement – 'Jesus is our guide. In him we live, we move, we are called to be' – invites students to not just be more like Christ in how we act, but to carry out the work of Christ in service to others.
Religious Education
Each class participates daily in our Religious Education curriculum program, Source of Life, which brings together the essential components of knowledge, understanding, appreciation and celebration of our rich tradition.
This program provides opportunities for the development of skills for young people to meet the challenges of living in the Catholic faith in today's world. The curriculum is intended to complement the work of the parents and the parish in assisting with the life-long process of the religious education of the individual.
Outreach
St Monica's is involved in a number of outreach programs supporting those in need in our local and global community. Through these opportunities, our students learn more about those less privileged, and their greater responsibility as stewards of the earth.
During the year students are provided with opportunities to identify ways that they can support others in the community. Charitable activities from the time they start school in Foundation through to Year 6, such as Meals on Wheels, Caritas K's and 'Mission Madness' fundraising to donate to Caritas.
The Mercy Sisters
The Mercy Sisters opened St Monica's Primary School in 1973 as part of the Sacred Heart Parish.
Students at Mercy schools are part of an educational culture which they share in the tradition of the Sisters of Mercy, and inherit the legacy of Catherine McAuley, who was known for her hospitality towards visitors. Mercy schools such as St Monica's are often described as welcoming and showing 'God's compassionate love in action'.
Educating the community of Wodonga for generations.
Catholic education in Wodonga began in 1876 when St Augustine's Primary School was established by the Sisters of Mercy. By 1899, the new school buildings were completed, and St Augustine's was catering for primary, secondary and commercial classes. A boarding school was also established at the convent.
By the late 1940's and the decade that followed, the large number of European immigrants moving to the area and the post war baby boom saw a substantial increase in numbers at St Augustine's. As a result, St Monica's Primary School was built and opened in 1973.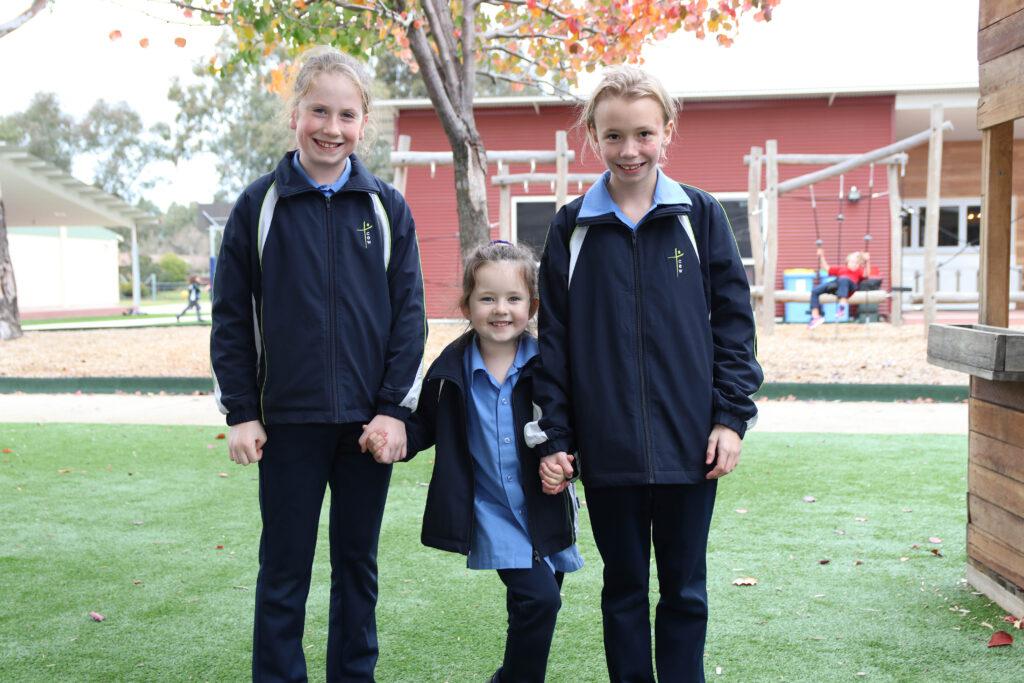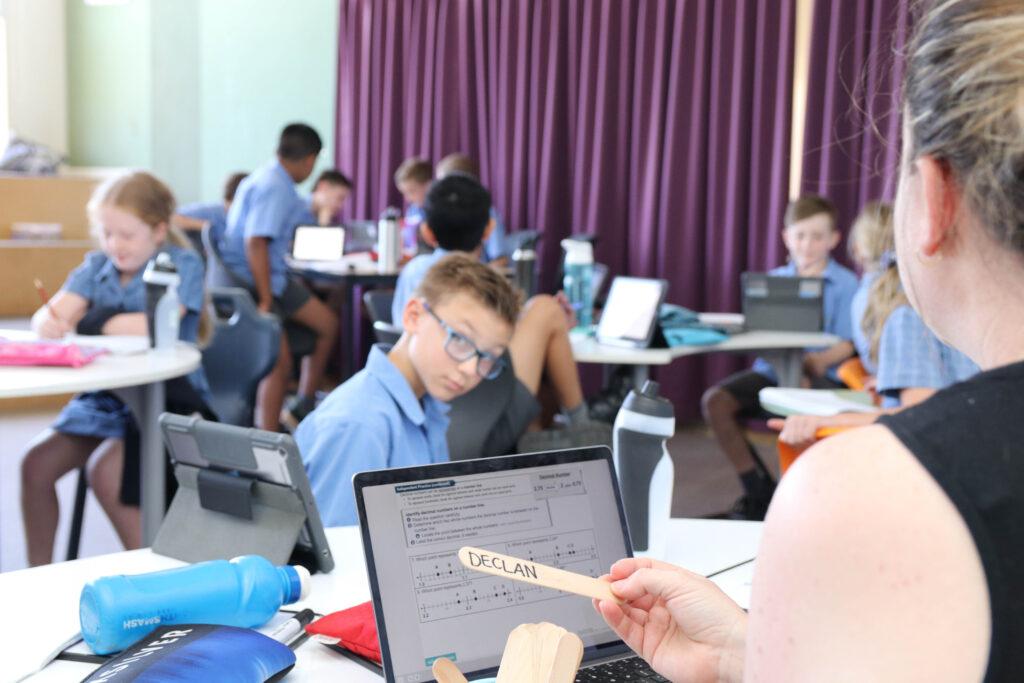 There was very little equipment at St Monica's when it opened, with one teacher reporting, "All they had was a blackboard, duster, ruler and chalk. No money, no books, no readers." There was also very little play equipment.
After a great deal of fundraising by a newly formed Mother's Club, much needed furniture was provided, and the school began to resemble an engaging learning environment. As South Wodonga developed and grew, so did the attendance at St Monica's into the proud and popular school it is today.
Our People
Professional. Proud. Dedicated.
Our staff are committed to the education and wellbeing of every student.
Principal
Jacqui Partington
Deputy Principal
Chris Todd
Senior Leader
of Learning & Teaching
Jack Neil
Literacy Leader
Danielle Topalovic
Catholic Identity Leader
Ngaio Baker
Community Engagement Leader
Anne-Marie Hoodless
School Counsellor
Maria Hutchings
Human Resources Leader
Jenny Krueger
Administration Officers
Kirsty Hibberson & Jo Cox
Finance
Kylie Myers
Foundation Area Leader
Willie Miller
Foundation Area Teachers
Willie Miller
Lyn Bethune
Rebecca Di Maio
Kylie Fulford
Junior Area Leader
Rachel Kelly
Junior Area Teachers
Rachel Kelly
Katalin Young
Sharon O'Brien
Amanda Rjinbeek
Steph Zahra
Chloe Phengkhammath
Kate Groth 
Middle Learning Leader
Jasmine Wiley
Middle Area Teachers
Jasmine Wiley
Nicholas Mammone
Emily Snowdon
Eliza Griffiths
Helen Salas
Sarah Flood
Melissa Mitchell
Emma Habermann
Senior Learning Leader
Sally Handford
Senior Area Teachers
Sally Handford
Sherie McKimmie
Stephen Coughlan
Chantal FitzSimons
Andrew Naldrett
Courtney Turnbull
Anne-Marie Hoodless
Kane Mayhew
Performing Arts
Stephanie Zahra
Thinking Skills
Karli Hayes
Physical Education
Jake Hicks & Narelle Hodgkin

Visual Arts
Renai Delemontex
STEM
Dean Chappel
Languages (French)
Lennon Harbour
Plus One Teacher F-6
Karyn Murphy
Science
Suzanne Siemens
Library
Kerri Roberts
Learning Support Officers
Kerri Roberts
Bern Hodson
Sarnia Smith
Mel Brizzi
Sophie Last
Narelle Hodgkin
Jan Moxey
Janaya Dobbie
Isaac Campbell
Harrison Fischer
IT Support
Jack Neil & Kylie Myers
Defence School Mentor
Maura Hansen
Canteen Manager
Sheridan Jefferson
Garden & Maintenance
Keith Ainsworth & Paul Fulford
St Monica's Primary School is part of the vibrant Wodonga Catholic Parish. The Parish priests and the community welcome the opportunity to connect with St Monica's families.
Parish Priest Fr. Junjun Amaya, PP
Assistant Parish Priest Fr. Junjun Amaya
Wodonga Catholic Parish Vision Statement
We are a diverse and talented community drawing inspiration from Jesus found in the Scripture and in the living tradition of his people, the Church. In valuing, celebrating and promoting life, we support each other as we joyfully proclaim Jesus to the World.